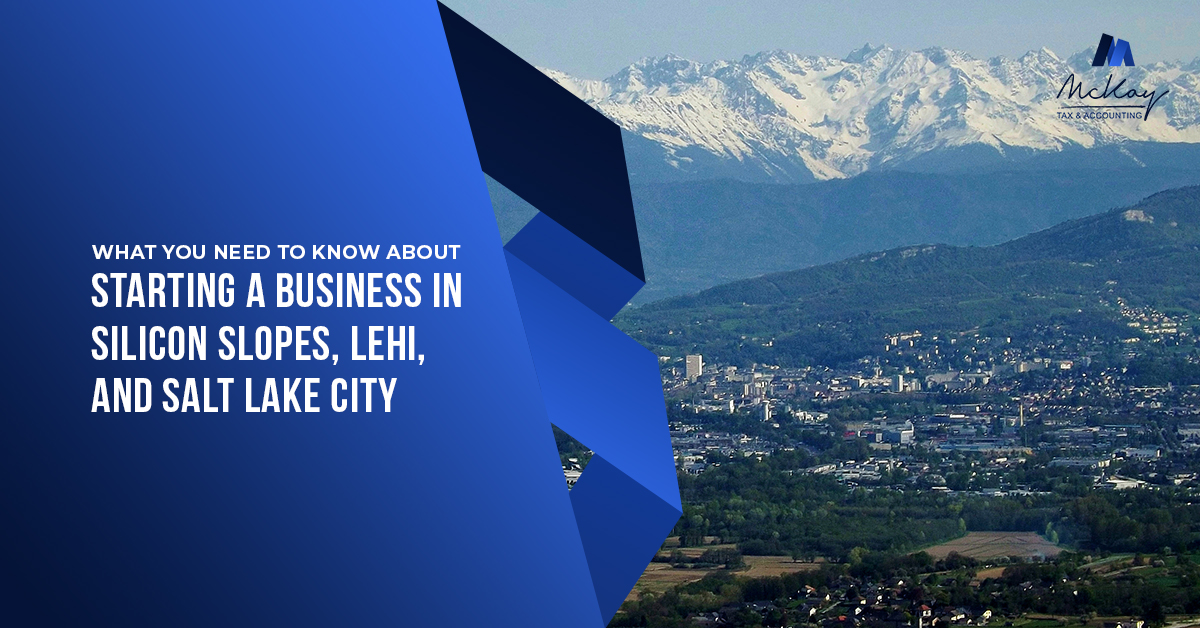 What You Need To Know About Starting A Business In Silicon Slopes, Lehi, And Salt Lake City
Entrepreneurs looking for the right place to launch a company these days would be crazy to ignore what's happening in Utah. The area known as Silicon Slopes — which includes Salt Lake City, Lehi, Provo and Park City alike — is rapidly emerging as the new national hub for both mega-companies and startups alike.
What Are The Benefit Of Joining The Tech Movement In Silicon Slopes?
Low taxes, reasonably-priced real estate and a thriving economy are just some of the reasons Utah was ranked third among America's Top States for Business in 2018. This is hardly surprising, though, to those entrepreneurs who are already here.
If you're still unsure about where to launch your new start-up, here are some things you should consider.
1. There's No Shortage Of Talent To Hire
The area boasts three fantastic universities close by Brigham Young University, Utah Valley University, and the University of Utah. They produce an almost endless supply of young, talented techies who are eager to start their careers. Many of those young graduates also have strong family ties in the area — which means they may be looking to build a long-term career in the area and won't rapidly disappear into other markets.
2. There's A Business-Friendly Government
Utah has been on a mission over the last decade to increase its appeal to businesses of all sizes. It's now ranked first in the nation when it comes to financial accessibility for the self-employed. Utah's flat 5% personal and corporate tax rate is one of the most attractive in the nation — and that's remained stable throughout the last 20 years. In addition, the government is constantly reviewing the regulations businesses work under. The goal is to constantly make certain that the regulations keep up with the times.
3. There Are Incentives For Startups And Existing Businesses Alike
The state offers financial incentives for existing businesses willing to relocate — which is one of the reasons that tech giants like Microsoft, Adobe, Overstock.com, and Facebook have been lured there. But startups aren't neglected in Utah, either. There are numerous state programs designed to help new businesses get their feet in the entrepreneurial waters, including the Utah Science, Technology and Research (USTAR) program that is geared toward new tech companies and the business expansion and retention (BEAR) grants for rural companies.
Years ago, if you wanted your tech startup to be taken seriously and get funding for a venture, you needed to be located in Silicon Valley. Thanks to programs like those listed above and plenty of willing venture capital firms in the state, that's no longer necessary.
4. There's A Thriving Tech Industry Already Here
Utah already has more than 6,500 tech businesses — which is a fantastic base to nestle down in and network. Between 2016 and 2017, there was a remarkable 42.2% jump in the number of technology-based jobs available, including those related to virtual reality, smart cities, artificial intelligence (AI) and the Internet of Things. The tech industry thrives on learning from itself and making connections — and there's plenty of opportunity for that here.
5. The Infrastructure Is Growing From Local Taxes
Local sales taxes vary by location, so that may be one important factor in your plans as you ultimately decide where to launch your business. However, wherever you locate, you can rest assured that Utah will make good use of the sales tax it does collects from your business.
Sales taxes in Lehi, for example, are a total of 6.75%. Of those, .50% goes back into Lehi for development, with less than 2.5% kept for administrative fees. The rest goes to maintaining — and expanding — the city's infrastructure.
Taxes in Salt Lake City are somewhat higher at 7.10% — but it divides much of what it does collect between upkeep on the parks, improving the infrastructure, and increasing public transportation. Salt Lake City businesses are also joining together to work with the Utah Transit Authority on a proposed expansion for the city's transit system that they believe will benefit everyone.
Are You Ready To Start Your Business In Silicon Slopes, Lehi, Or Salt Lake City?
So, do you have the next great business idea in your mind? Are your plans for a tech powerhouse forming? If you want one of the best places in the country to make your dreams become a reality, Utah — and Silicon Slopes — may be calling. The energy is right and the tech industry is blooming here, even while it may be slowing down in other areas. Let our team at McKay's Tax Services guide you through the tax matters that apply to your individual, partnership, or corporate business. We can help you develop a tax strategy that will minimize your liabilities and maximize your savings from the very start.